Charity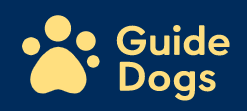 The Guide Dogs story started in 1931 with two amazing British pioneers, Muriel Crooke and Rosamund Bond. These remarkable women organised the training of the first four British guide dogs from a humble lock up garage in Wallasey, Merseyside. They've come a very long way since those early days. Today Guide Dogs is the world's largest breeder and trainer of working dogs. And thanks to their dedicated staff and volunteers – and your vital donations – they've helped over 29,000 people to achieve life-changing independence.
Despite the devastation caused by sight loss, 70% of adults receive no support within the first 12 months of diagnosis, and are likely to encounter poor education, high unemployment, depression, loneliness and financial insecurity throughout their lifetime.
The rise in the UK's elderly population continues to impact social care. With shortages in funding, local authorities have prioritised the services they provide, leaving the third sector under great pressure to plug gaps.
Childhood sight loss is on the increase. There are around 35,000 children and young people living with a vision impairment in the UK. Some 80% of a child's learning takes place using vision, and every day they go without support can affect their development.
Yet they know that the public does not find their charitable cause as engaging as other causes; people fail to relate to the issue and consequently they need to work much harder to build emotional connections with the public.
By introducing new services, embracing new technologies, digitising some of the ways they provide services and collaborating with other charities and organisations, they will be able to support thousands more people living with sight loss than they do today.
Canine services
In-person services
Online and telephone service
Influencing and campaigning