Charity
This year's chosen charities are Coventry & Warwickshire Mind and Birth & Babies.

Coventry & Warwickshire Mind are a local mental health charity affiliated to Mind: the leading mental health charity in England & Wales. For almost 50 years they have been developing and delivering quality services with, and for, people with mental health problems.
They want to make sure that everyone with a mental health problem gets the support they need and the respect they deserve. This could mean having access to information, a listening ear, or more specialist support and services to help someone to live and recover from their mental health problem.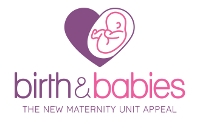 Warwick Hospital wants to ensure women have choice about where they give birth. To support this, a Midwifery Led Unit is being developed on site at the hospital.
This new unit will be the first in our area and it will benefit families across South Warwickshire and beyond.
The Midwifery Led Unit will enable expectant parents to have their babies in a comfortable, relaxed, homely environment rather than a more clinical setting. The unit is due to open in 2018 and will complement the full Consultant Obstetric Unit which is also based at Warwick Hospital.
To ensure the new Midwifery Led Unit is the best it can be there is a 200,000 fundraising appeal. The money raised from this will go towards enhancements that NHS funds canít provide.